Description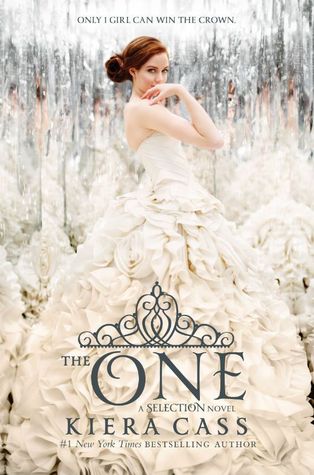 Title: The One
Author: Kiera Cass
Pages: 323
Series: The Selection #3
Publisher: HarperTeen
Date of Publication: May 6th 2014
ISBN13: 9780062060013
Source: Bought
Format: Harcover
Synopsis: (from Goodreads)
The Selection changed the lives of thirty-five girls forever. And now, the time has come for one winner to be chosen.

America never dreamed she would find herself anywhere close to the crown—or to Prince Maxon's heart. But as the competition approaches its end and the threats outside the palace walls grow more vicious, America realizes just how much she stands to lose—and how hard she'll have to fight for the future she wants.

From the very first page of The Selection, this #1 New York Times bestselling series has captured readers' hearts and swept them away on a captivating journey... Now, in The One, Kiera Cass delivers a satisfying and unforgettable conclusion that will keep readers sighing over this electrifying fairy-tale long after the final page is turned.
3. The One
My Thoughts
So... my guilty pleasure series. I just love it. I'm thinking about re-reading it, just because it makes me feel all warm inside. He. But let's talk about the ending of the trilogy first! (By the way, I do expect a spin off or something. Please.) The One starts immediately where The Elite left us. Maxon has decimated his harem ... err... prospective wife-pool to just four girls: Celeste, Kriss, Elise, and America.
I quickly fell back into the palace rythm. Pretty dresses, the king wanting to kick America out, America's occasional stupidity, the other girls, the queen. It was all there. Rebel attacks were there sometimes, although I still feel that they happened too often at the palace. It doesn't feel very secure. I think the rebel's were working a guerilla tactic, where bombing public buildings or something would probably have been more effective. But I get it, it was supposed to make it all feel more real. To the reader, as well as to America.
I think we all knew who America would choose in the end. It wasn't even a competition anymore by this book, for several reasons that I'm not going to get into. But I think it was handled well and believably. Like I said, I want a spin off, to see what and how things have changed. I even grew to like Celeste, of all people. That was a complete 180 and I'm not sure I think it's believable. But I liked it. It wasn't a complete happy end by far, which was what I had been fearing because of the whole fairy tale aspect of the book. Maybe the 'climax' at the end was a tad overdone, but it certainly was dramatic and a real page turner.
Rating
Buy It