Description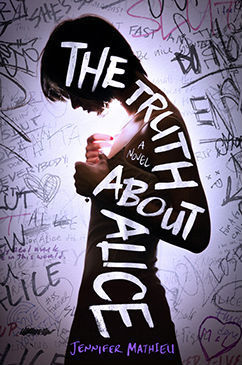 Title: The Truth About Alice
Author: Jennifer Mathieu
Pages: 208
Series: //
Publisher: Roaring Brook Press
Date of Publication: June 3rd, 2014
ISBN13: 9781596439092
Source: Bought
Format: Hardcover
Synopsis: (from Goodreads)
Everyone knows Alice slept with two guys at one party. When Healy High star quarterback, Brandon Fitzsimmons, dies in a car crash, it was because he was sexting with Alice. Ask anybody. Rumor has it Alice Franklin is a slut. It's written all over the "slut stall" in the girls' bathroom: "Alice had sex in exchange for math test answers" and "Alice got an abortion last semester." After Brandon dies, the rumors start to spiral out of control. In this remarkable debut novel, four Healy High students tell all they "know" about Alice--and in doing so reveal their own secrets and motivations, painting a raw look at the realities of teen life. But in this novel from Jennifer Mathieu, exactly what is the truth about Alice? In the end there's only one person to ask: Alice herself.

My Thoughts
The Truth About Alice is - you guessed it - about Alice Franklin and the rumours that are spread about her in the small Texan town of Healy. The book is told from four different points of view. It starts off with Elaine O'Dea first telling the reader about the fateful party. Elaine is pretty much the queen bee of Healy High. Because of some petty thing in eighth grade, she starts spreading more vicious rumours, as well as creating the "slut stall". But as bad as she was, I don't think it gets much worse than Kelsie, who also narrates a few chapters.
Kelsie was Alice's best friend before the rumours. She isn't even present at the party, but when she hears about the rumours, she doesn't back her best friend. She jumps ship, mostly so that she wouldn't lose her place at the popular table. She also makes up a couple more rumours to make things even worse for Alice. So yeah, worst person award right here.
Josh - Brandon's best friend - isn't exactly innocent either. And his chapters were definitely my least favourite. They were still written well, but seeing as all characters are in some way unlikeable, I couldn't relate to Josh at all. I got a weird vibe from him right from the beginning and I still feel something is off.
The last point of view is Kurt. As you've probably seen by now, all characters fit into some type of stereotype. Kurt is the nerd-who-has-a-crush-on-a-(previously)-popular-girl. I think he was kind of cute, if somewhat... hm, obvious considering he's supposed to be a genius?
But anyhow, I tore right through this one. I couldn't stop reading it. I even read it in class at uni and got reprimanded. Maybe it's because I was bullied (though luckily not as severely as alice) but it's definitely also because the subject matter was handled really well. You should definitely check it out!
Rating
Buy It